Development Director
We are seeking a dynamic, driven, and self-directed professional responsible for developing, executing, and achieving United Way of North Central Iowa's fundraising and relationship management objectives. The perfect candidate will be savvy in securing in-person appointments, public speaking engagements, and articulating the vision, mission, goals, and case for support for UWNCI. Please download the job description and send a cover letter, resume, and references to Jen Arends at jen@unitedwaynci.org. 
Position Summary:
Cultivates and expands relationships with donors and businesses. Responsible for annual fundraising, donor engagement and marketing efforts for the United Way of North Central Iowa. Works with CEO to develop and analyze the resource development & communication plan.
Qualifications:
Qualifications: Prefer Bachelor's degree and/or 3-5 years of successful experience in fundraising, business sales, communications, relationship marketing, and/or event planning. Ability to make timely decisions and operate effectively under pressure. Demonstrates excellent organizational, verbal and written communication skills.  Possess skills to make large and small group presentations. Must be able to communicate effectively with community organizations, co-workers, volunteers, donors, agencies and the general public.
United Way of North Central Iowa works to build strong resources for strong communities. Our niche is building resources to meet community needs.  A successful candidate will align with our core values:
Commitment to the Community

Dedicated to strong, inclusive relationships

Tenacious

Honest and Genuine

Fun, Humor, and Joy

Innovative problem solvers.
We are an Equal Opportunity Employer (EOE).
Salary (DOEQ)
Find out more about United Way of North Central Iowa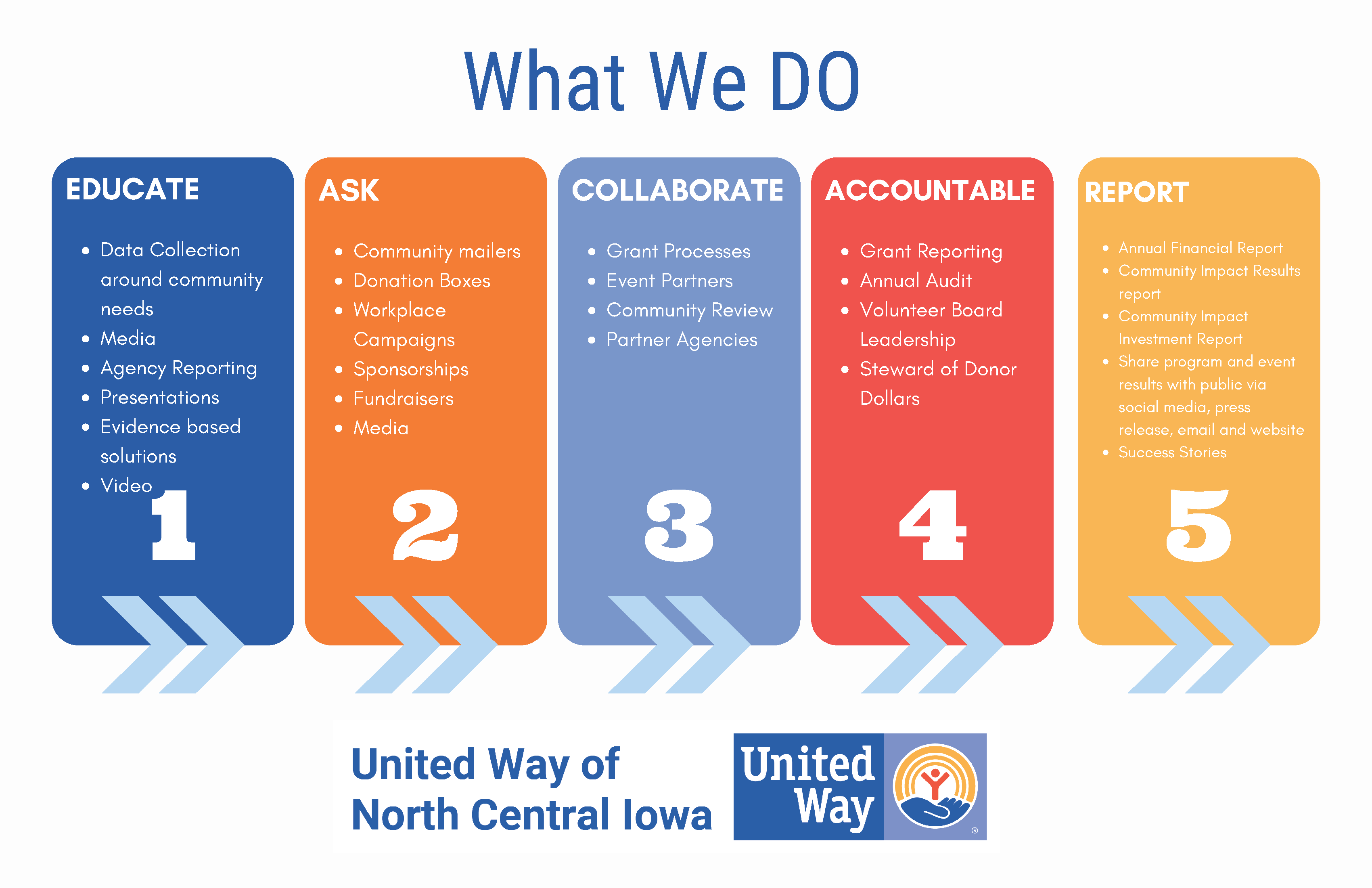 Review our Entreprenurial Operation System Vision/Traction Organizer: UWNCI V/TO
Read our Community Impact Report
Find out more about the programs we fund: Community Investment Report