Are you a woman looking to get involved in your community?
Women United members are community leaders who are focused on empowering and inspiring women to lead community-wide change that improves the lives of those in north central Iowa. Membership is comprised of caring citizens who contribute $250 or more annually to United Way of North Central Iowa. 
Funding Available
Women United Grant Funding is Now Open.  Do you have a program that will positively impact women-led households in north Iowa? Submit your grant by March 27th!  Click below to find out more!
---
Women United is about women helping women.
Women United aims to bring together women throughout the North Central Iowa community to leverage their time, talents, and treasure for collective impact.  The sum of the activities and interactions of Women United members is to create lasting change within their chosen issue area.
Focus & Initiatives
Helping women and families in our community succeed 
Women United has been instrumental in empowering women in our community to overcome challenges and barriers to success. Women United on funding programs and initiatives that breakdown barriers for female-led households
Member Benefits
Be a Community Impact Leader
Share your ideas and build relationships with group members, United Way staff, and community leaders in a variety of fun and meaningful settings
Lead Change
Be a part of United Way's movement to inspire change in education, financial stability, and health. You have an opportunity to support societal change and make history
Perks
Network with community leaders, receive special invitations, and early ticket access to events. 
---
Our Mission
Image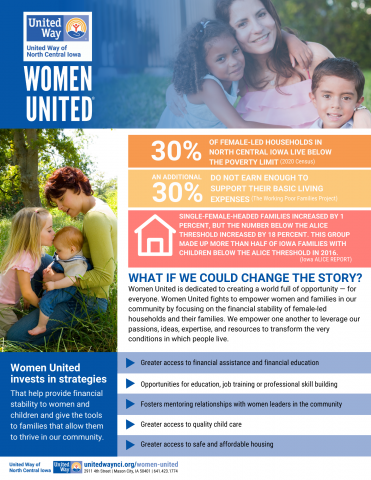 ---
Join us for a Women United Social
Women United members and those interested in learning more are invited to join us at Brix Wine and Whiskey, located at 107 S. Delaware in Mason City from 5:00 p.m. to 6:30 p.m. on the first Thursday of the month. Women United Socials are an opportunity to socialize and discuss important topics in the areas of women, philanthropy, and business. All are welcome to join us!
2023 Women United Social Dates and Topics
---
No Social in July
Date: January 5, 2023, 5:00 p.m. Topic: Poverty
Date: February 2nd, 2023 5:00 p.m. - Topic: Economics of Poverty
March 2, 2023 5:00 p.m.
---
Date: April 6, 2023 5:00p.m. Topic: Female Empowerment
Date: May 4, 2023, 5:00 p.m. Topic: Inequality
Date: June 1, 2023, 5:00 p.m. Topic: Leadership
Date: August 3, 2023, 5:00 p.m. Topic: Work-Life Balance
Date: September 7, 2023, 5:00 p.m. Topic: Poverty and Childhood Development
Date: October 5, 2023, 5:00 p.m. Topic: Homelessness
Date: November 2, 2023, 5:00 p.m. Topic: Women and Money
Date: December 7, 2023, 5:00 p.m. Topic: Working Parents